Shopping Cart
Your Cart is Empty
Thank you for your business!
You should be receiving an order confirmation from Paypal shortly.
Exit Shopping Cart
Over the years, the IWMC has had great support from spouses/significant others, community, and friends who understand and emulate the ideals of the Iron Warriors MC but do not meet criteria to be a full patched member.
The three support groups of the IWMC are the Order of the Garter and Sidearms, reserved for spouses/significant others of IWMC members and the Crue'd Pigs, which have potential to become IWMC patch holders.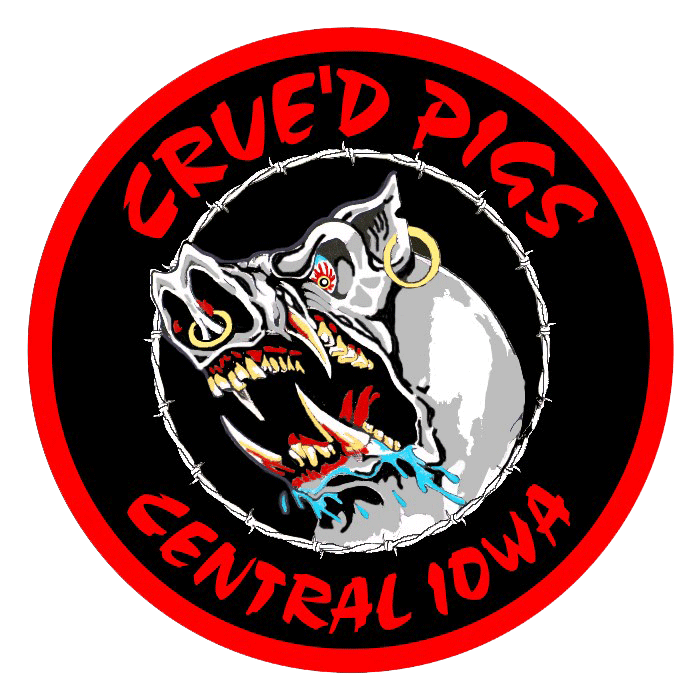 The Crue'd Pigs Central Iowa Support Group was established in 2003 by the Central Iowa Chapter of the Iron Warriors Motorcycle Club. The Central Iowa Chapter saw the need to include "civilians" and other individuals who did not meet the membership requirements of the Iron Warriors, in the support and promotion of the organization. The name Crue'd Pigs was taken from the Central Iowa Chapter and goes back to the old "Wild Pigs" Motorcycle Club days. The spelling is unique, because the pigs' head logo was borrowed from the rock group Mötley Crüe, with their written approval.
There are now several Crue'd Pigs support groups established throughout the IWMC Nation. For those interested in more information, please email: [email protected]
The Iron Warriors of the River City Chapter and their ladies favored the idea of a support patch for the wives/significant others of IWMC full patched members.
Mr. Clean and Ajax of the River City Chapter of the IWMC started working on designs in late December of 2003; By January of 2004 had some rough sketches of what would eventually come to be the finished design in January of 2005.
There are now several Order of the Garter members throughout the IWMC Nation. For those interested in more information, please email: [email protected]
/